Biography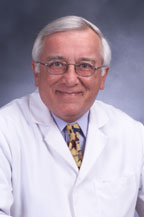 After graduating from Loyola University with a Bachelor of Science in Biology, Dr. Yurt earned his graduate degree in Biomedical Engineering from the University of Miami, Coral Gables, Florida. He received his M.D. in 1972 from the University of Miami School of Medicine, andcompleted his internship and his residency training in Surgery at the Parkland Memorial Hospital, University of Texas-Southwestern, in Dallas, Texas. He did his postdoctoral fellowship in Medicine at the Robert B. Brigham Hospital and Harvard Medical School, in Boston, Massachusetts. He was Chief Resident in Surgery at New York Hospital-Cornell Medical Center.
Dr. Yurt is a well-regarded expert in his field of expertise and serves a a member of many prestigous medical and scientific societies, including the American College of Surgeons (where he served as Governor from 1990-1996), the American Association for the Surgery of Trauma, the American Association of Medical Colleges (where he served as a Delegate on the Council of Academic Societies from 1985-1987) and the American Burn Association (where he served as second Vice President and on the Board of Trustees from 2004-2006).
Dr. Yurt has been repeatedly recognized by Castle Connelly as one of the "Best Doctors in America"; he has been included in New York Magazine's Best Doctors issue from 1998 to the present. He was recently selected as one of the 2008 "SuperDoctors" in New York, prestigious honor accorded only 5 percent of New York physicians.
He is widely published in many peer-reviewed journals and serves on the editorial board and ad-hoc reviewer for 6 professional journals. Dr. Yurt has written nearly 40 books, book chapters and reviews, and serves as Chairman of the Physicians's Advisory Committee for the Emergency Medical Society. He also serves on the Ad Hoc Disaster Response Planning Committee for the American Burn Association. He is the Co-Principle Investigator for a grant from the Federal Health Resources & Services Administration for Disaster Planning for Burn Injury in New York City.