Biography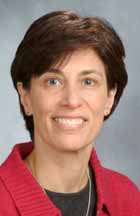 Dr. Linda Gerber earned her undergraduate degree at the State University of New York, Binghamton, and received her graduate and doctoral degrees from the University of Colorado. She was an NIH postdoctoral fellow in public health and epidemiology in the Hypertension Research Training Program at Cornell University Medical College.
Dr. Gerber is Director of the Biostatistics and Research Methodology Core and Professor of Public Health in the Department of Public Health. She is also Professor of Epidemiology in Medicine in the Department of Medicine at Weill Medical College of Cornell University.
Dr. Gerber's research interests focus on psychosocial and ethnic factors influencing blood pressure, the epidemiology and evolutionary biology of cardiovascular and chronic degenerative diseases, and understanding factors that underlie socioeconomic and ethnic disparities in disease.