Biography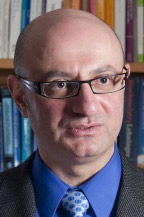 Dr. Sedrakyan is leading Patient-Centered Comparative Effectiveness Program at WCMC & NYP and US Food and Drug Administration's Medical Device Epidemiology Network (MDEpiNet) Science and Infrastructure Center at Cornell.
He is trained in CT surgery and CV medicine (research degree) and since 1998 in full time in research and administration. He did 3 years postdoctoral training at Yale Medical School with advanced course work in Decision sciences, Clinical Epidemiology, Biostatistics including participation in RWJ Clinical Scholar Program.
He then completed a Ph.D. in Health Policy and Management at Johns Hopkins School of Public Health concentrating on health policy and management/health services research and outcomes research.
He was a Senior Adviser at FDA (from 2008) and had a simultaneous appointment as Senior Service Officer/Senior Adviser at the Agency for healthcare research and Quality (AHRQ) from 2005 to 2009. He was a lead adviser on interventions (including surgery), implantable devices and cardiovascular content area. He initiated the Effective Healthcare CV Consortium that conducted and funded some of the first linkages of national cardiovascular and administrative databases and collaborative outcomes studies. He supervised two centers for Education and Research in Therapeutics (CERTS); Cardiovascular CERT and Device CERT
Art Sedrakyan is also serving on Medicare Evidence Development & Coverage Advisory Committee (MEDCAC) from June 1, 2010 (special government employee). He is currently the Vice-Chair of MEDCAC
Prior to appointments at DHHS he worked in the United Kingdom and has research and teaching experience from Royal College of Surgeons (RCS) of England and London School of Hygiene (LSHTM), London UK where he served as faculty and was Senior Adviser for National Collaborating Center for Acute Care which is one of the main research networks of the UK National Institute of Clinical Excellence (NICE).