The Genomics Resources Core Facility (GRCF, previously Microarray Core Facility) was established in the year 2000 and has been providing state of the art services in high through-put genomics technologies to researchers. The core services include experimental design, sample manipulation, instrumentation, data analysis, interpretation, and validation. The core facility consists of Agilent 2100 Bioanalyzer, Nanodrop, Qubit fluorometer, Taqman 7900HT real-time PCR machine, Affymetrix GeneChip platform, GenePix 4000B array reader, Covaris S2 High Performance Ultrasonicator, and high throughput next-generation sequencing (NGS) platforms which are Illumina HiSeq2000/1000/MiSeq, and Ion Torrent Personal Genome Machine (PGM). The goal of the GRCF is to provide the high quality services at low costs to the entire research community.
Location
Room A-163: Affymetrix GeneChip system, and Agilent 2100 bioanalyzer.
Room A-159: Illumina HiSeq2000 & 1000.
Room A-157: TaqMan 7900HT, Covaris S2 and GenePix 4000B array reader.
Room A-155: Ion Torrent Personal Genome Machine (PGM) and MiSeq (coming soon)
Room A-165: DirectorÕs office
Services
Next Generation Sequencing Platforms
1. Illumina HiSeq2000/1000/MiSeq Sequencers

This technology is able to produce gigabases of high quality sequence information in a single run. Any nucleic acid samples can be sequenced on this platform, and it supports the broadest set of applications, including

Whole genome sequencing
All exome sequencing
Protein-DNA/RNA interactions (ChIP-Seq, CLIP, etc.)
RNA sequencing for SNP detection, expression analysis, and splice variant detection
Targeted resequencing

For both internal and external users, please register to our iLab LIMS database at http://wcmc.corefacilities.org before you submit your request. We provide full services including sample QC, library preparation, clustering and sequencing, and data analysis including generating FastQ files and demutiplexing multiplexed samples. We can also perform the clustering and sequencing for your pre-made library samples. If some of you need to prepare the library in your own lab, please consult us with the protocols and reagents.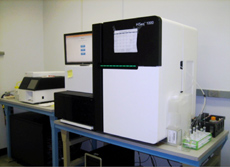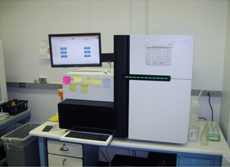 2. Ion Torrent Personal Genome Machine (PGM)

PGM provides an orthogonal sequencing technology with longer read length. This sequencing platform contains semiconductor chips, reagent kits, and the Torrent Server/Torrent Suite software. The applications include 1) Small genomes sequencing; 2) Targeted Amplicon sequencing; 3) Library assessment; 4) Barcoded sample sequencing; 5) Small RNA-seq; 6) Pair-end reads and 7) ChIP-seq.
Affymetrix GeneChip Arrays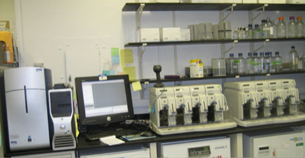 This platform can analyze all GeneChip probe arrays for gene expression analysis and DNA analysis. A broad range of whole genome arrays are available in Affymetrix product lines, including human genome array, human SNPs, mouse genome, rat genome, rat toxicology, rat neurobiology, drosophila genome, Arabidopsis genome, C. elegant genome, Yeast genome, E. coli and P. aeruginosa genome, and others. We can help you design your experiment and provide detailed protocols for both RNA and DNA sample preparations.
Agilent 2100 Bioanalyzer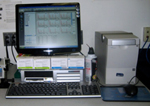 This piece of equipment replaces conventional gel electrophoresis and improves analysis of DNA, RNA, proteins and cells through automation for better accuracy and reproducibility, rapid visualization of sample quality and quantity, and high sensitivity with only a small amount of sample. RNA Nano and Pico chip kits, and DNA kits are all available in the core facility.
ABI 7900HT Sequence Detection System

In addition to standard PCR thermal cyclers, GRCF also houses a real-time PCR instrument. The 7900HT System is the only real-time quantitative PCR system that combines 96- and 384-well plate compatibility and the TaqMan Low Density Array with fully automated robotic loading and also offers optional Fast real-time PCR capability. Using two automation software tools, Plate Utility and Automation Controller, most of the gene expression and SNP genotyping workflow is fully automated for high-throughput applications. Key applications include gene expression quantitation and the detection of single nucleotide polymorphisms (SNPs) using the fluorogenic 5' nuclease assay.
Covaris S2 High Performance Ultrasonicator
This DNA shearing equipment hosted in GRCF can yield precise and tight fragment size distribution and the results are high reproducible.