Admission Requirements & Process
Eligibility
Graduates of veterinary medical schools accredited by the American Veterinary Medical Association with a strong interest in laboratory animal medicine are encouraged to apply. Individuals with postgraduate clinical experience will be given preference. Graduates of foreign veterinary colleges will be considered if they hold an Educational Commission for Foreign Veterinary Graduate certificate or provide evidence that they are qualified to practice veterinary medicine in some state, province, territory, or possession of the United States, Canada, or other country.
Application Deadline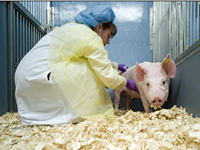 To be eligible for admission in July, applicants must submit all application materials by November of the preceding year.
How to Apply
Applicants should submit a letter of interest detailing career objectives and prior exposure to laboratory animal medicine, along with a CV, an official copy of their veterinary school transcript and veterinary license, and three letters of recommendation. All materials should be sent to:
Tri-Institutional Training Program in Laboratory Animal Medicine and Science
c/o Neil S. Lipman, VMD
Center of Comparative Medicine and Pathology
Memorial Sloan-Kettering Cancer Center and Weill Cornell Medical College
1275 York Avenue
Box 270
New York, NY 10065