Biography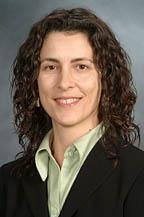 Dr. Inmaculada de Melo-Martín is Associate Professor of Public Health in the Division of Medical Ethics, Weill Medical College of Cornell University. She received her undergraduate degree from the University of Oviedo, Spain and her Ph.D. in Philosophy from the University of South Florida. Dr. de Melo-Martín also did graduate work in Philosophy of Science and Philosophy of Technology at the University of Valencia, Spain. She also has a M.S. in Molecular Biology from The University of Texas at San Antonio.

Her research interests include Bioethics and Philosophy of Science, and she has published widely on ethical and epistemological issues related to reproductive technologies, molecular genetics, and research ethics.

Dr. de Melo-Martín's professional memberships include serving on the Executive Board for the Society for Philosophy and Technology, the Nominating Committee of the American Society for Bioethics and Humanities, and the American Philosophical Association Committee on Philosophy and Medicine.