Biography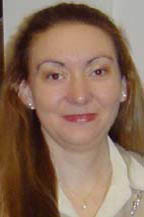 Dr. Di Gregorio obtained her undergraduate degree summa cum laude in Biological Sciences from the University "Federico II" in Napoli (Naples), Italy, in 1990, and her Ph.D. in Molecular and Cell Biology and Pathology from the same university, jointly with the Stazione Zoologica "Anton Dohrn", Napoli, in 1995.
Her experimental work is predominantly focused on marine invertebrates, first the Mediterranean sea urchin Paracentrotus lividus and later the ascidian Ciona intestinalis (sea squirt), the subject of her doctoral research.
From September 1996 until the end of 2002 she was a post-doctoral fellow in Dr. Mike Levine's lab at the University of California at Berkeley, where she expanded her work on Ciona through the characterization of cis-regulatory modules, DNA sequences that contain the information necessary for the correct spatial and temporal expression of genes.
Research in the Di Gregorio lab, which was established at the beginning of 2003, focuses on elucidating cis-regulatory mechanisms controlling gene expression during development and evolution of the chordate body plan. The main focus of the lab's research are the evolutionary origins and development of the notochord. The notochord is an axial structure that 'precedes' the backbone, during evolution and during prenatal development. To understand how the notochord appeared during evolution and how its proper development is orchestrated, the lab studies various notochord genes, and in particular Brachyury. Brachyury encodes an evolutionarily conserved transcription factor expressed in the notochord. Brachyury functions as a crucial activator of gene expression in notochord formation during the embryogenesis of organisms as different as sea squirts and human embryos. In addition, in humans Brachyury is up-regulated in notochord-derived tumors called chordomas.