Twin Transplants From Loving Parents
There has been a great deal of recent media coverage about an extraordinary transplant case at NewYork-Presbyterian Hospital, the Medical College's chief clinical partner. The story underlines the extraordinary lifesaving efforts of our transplant team and the Hospital's position as the nation's leading transplant center.
In a unique case, the Leavy-De Vale family reunited with the medical team at NewYork-Presbyterian/Weill Cornell that performed life-saving kidney transplants on their twin sons. The twins, who have the rare disease focal segmental glomerulosclerosis, each received a kidney donated by their parents. Dr. Laura Forese and Dr. Sandi Kapur spoke at the event. The family expressed gratitude to the hospital. Mother Evette Leavy said she "trusted the team with my life, and with my children."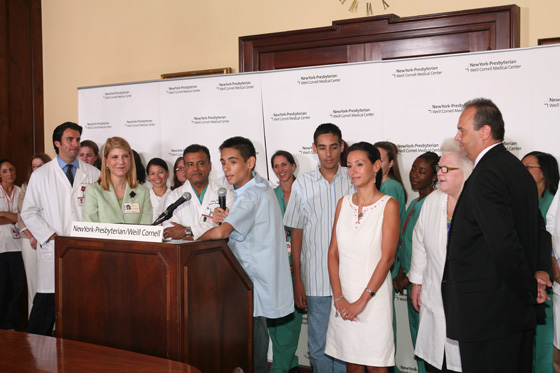 Contact Info