Application
Applications to the 2018 Gateways to the Laboratory Program are now open. You may apply to the 2018 Gateways to the Laboratory Program via the Leadership Alliance Summer Research Early Identification Program (SR-EIP). Be sure to select Weill Cornell Medical College. Applications must be complete by February 1, 2018.
Who Is Eligible To Apply?
Must be a Pre-MD-PhD student.
Must be a college freshman or sophomore.
Must be a US citizen or permanent resident.
Must have a physical or mental impairment that substantially limits one or more major life activities or must be a member of an underrepresented minority group or otherwise disadvantaged group, as described by the National Institutes of Health: http://grants.nih.gov/training/faq_diversity.htm#a3
Application Requirements
See Application Instructions from the Leadership Alliance here and here. Read the FAQ here.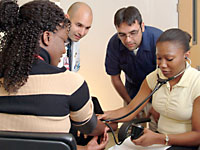 U.S. Citizenship
All applicants to the Gateways to the Laboratory Program must be either U.S. Citizens or Permanent Residents of the U.S. Proof of citizenship (copy of U.S. passport or birth certificate) or residency is required and must be submitted with your application.