Application
Applications to the 2015 Gateways to the Laboratory Program are now closed. Apply for the 2016 program starting November 1st, 2015.
Who Is Eligible To Apply?
Must be a Pre-MD-PhD student.
Must be a college freshman or sophomore.
Must be a US citizen or permanent resident.
Must have a physical or mental impairment that substantially limits one or more major life activities or must be a member of an underrepresented minority group or otherwise disadvantaged group, as described by the National Institutes of Health: http://grants.nih.gov/training/faq_diversity.htm#a3
Application Requirements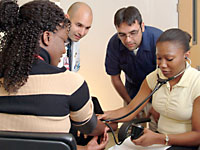 Personal statement
Describe your laboratory experience, research interests and goals, and reasons for wishing to participate in the Program.
Official transcript
The official transcript (mailed directly from your school) with all of your grades. All college freshman
must
submit a copy of their high school transcript in addition to their college transcript. Preference is given to students with a grade point average of B (3.0) or above.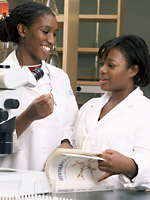 Two letters of recommendation
Two letters of recommendation, one from a science faculty member or advisor who can address the applicant's intellectual and personal suitability for the Program, and one from a research supervisor or second science faculty member.
SAT Scores
A copy of your SAT scores must be included with your application.
U.S. Citizenship
All applicants to the Gateways to the Laboratory Program must be either U.S. Citizens or Permanent Residents of the U.S. Proof of citizenship (copy of U.S. passport or birth certificate) or residency is required and must be submitted with your application.
Health Insurance/Medical Clearance
Applicants must have their own health insurance for the duration of the summer. Proof of insurance must be emailed to the MD-PhD. Student health will be available to Gateways students for non emergency problems.
Mail to
Weill Cornell/Rockefeller/Sloan-Kettering
Gateways to the Laboratory Program
1300 York Avenue, Room C-103
New York, NY 10065-4805